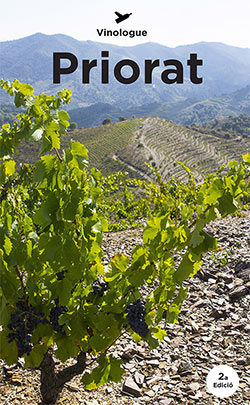 We're happy to announce that we've just released the second edition of our successful Vinologue Priorat, the first edition of which was a finalist for the Best Wine Book in the World at the prestigious Gourmand Awards. This second edition was presented at the 20th Fira del Vi in Falset and as with the first edition is available in both English and Catalan editions that are full color and 480 pages in length–an increase of 48 pages from the previous edition. The newest edition represents the most complete reference available for the wines, cellars, and people of DOQ Priorat.
The book includes revised information for 114 wine cellars and producers in the region and tasting notes for 380 wines. With this edition we have assigned scores to every wine tasted using a tasting panel of local sommeliers in Catalonia who tasting all the wine blind during February, 2015. This book makes for a perfect companion to our book for DO Montsant, which is the other denomination of origin in the comarca of Priorat. The Montsant book was released last year and the website of Master of Wine, Jancis Robinson rated it is a valued wine book in 2014.
This is the latest edition in our series of guidebooks that were initially started in 2007 with the objective to offer pocket-sized guides to wine regions around the world. These books are the quintessential guide for both wine lovers as well as experts as they contain a profundity of information for those who wish to visit these regions.
This second edition is available now in our online store as well as around Catalonia via our distributor, Altaïr.