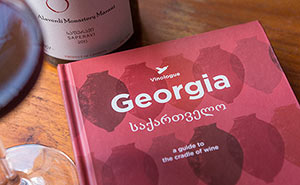 Our latest book for Georgian wines and wineries has been out since June now and you can read a selection of some of the great feedback that people have been giving below.
"…this is the only book about Georgian wine to cover the ground with the depth and scope expected by most wine lovers. Quite simply put, if you want a book on Georgian wine this is for you." says Winenous
"Anyone interested in wine, from expert to novice, will find this book a good read. The photographs are beautiful and that alone might make you want to dust off your passport." D. says Russell Smith on Amazon.
We also invite you to have a read of co-author Miquel Hudin's account of working on the guide. Then you can also read about co-author Daria Kholodilina's take on publishing her first book.
And lastly, read about the journey to clay and wine during the release in Georgia. A very fun and memorable journey in a wonderful and delicious country!