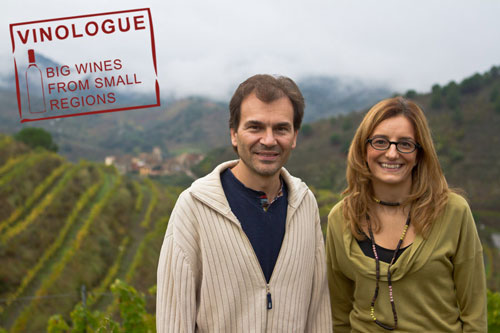 View the English version below
El mes passat va publicar-se el llibre Vinologue Priorat, una guia d'enoturisme sobre els cellers i vins de la Denominació d'Origen Qualificada Priorat que inclou 104 cellers i elaboradors així com descripcions de 315 vins tastats pels autors. Va presentar-se a la comarca durant els actes de la Fira del Vi de Falset i ara arriba a Barcelona amb una presentació que tindrà lloc al Bar à Vins de la Fàbrica Moritz el proper 11 de juny. Els seus autors, Miquel Hudin i Èlia Varela, estaran acompanyats d'Olivia Bayés i David Marco del celler Marco Abella de Porrera. Es tracta d'un modern celler fonamentat en una llarga tradició familiar que elabora vins amb vinyes ecològiques que amb tan sols unes poques anyades han aconseguit excel•lents resultats. A més a més ofereixen visites enoturístiques i tastos al celler.
Aquesta trobada informal compaginarà la conversa amb els autors i elaboradors en un entorn distès amb el tast dels vins del celler Marco Abella i la firma de llibres.
Vinologue Priorat + Marco Abella
Dia: dimarts 11 de juny
Hora: entre les 19.00 i les 21.00 h
Lloc: Bar à Vins – Fàbrica Moritz Barcelona (Ronda Sant Antoni, 41)
No cal reserva
Accés gratuït
———————————–
In May, the newest enotourism guide from Vinologue was released for Priorat. A comprehensive reference to the cellars and wines of Priorat, it includes 104 producer profiles as well as 315 wines with extensive tasting notes. Officially presented at the Fira del Vi in Falset, it now arrives in Barcelona with a presentation at Bar à Vins in the Fabrica Mortiz on June 11th. The authors, Miquel Hudin i Èlia Varela will be accompanied by Olivia Bayés and David Marco of the cellar, Marco Abella in Porrera–a modern cellar with a long family tradition in wine who have been producing organic wines with excellent results while growing their enotourism offer.
This informal gathering will combine a conversation with the authors as well as a taste of the Marco Abella wines followed by a book signing.
Vinologue Priorat + Marco Abella
Day: Tuesday, July 11th
Time: 19.00-21.00
Locations: Bar à Vins – Fàbrica Moritz Barcelona (Ronda Sant Antoni, 41)
Reservations not required
Free Admission