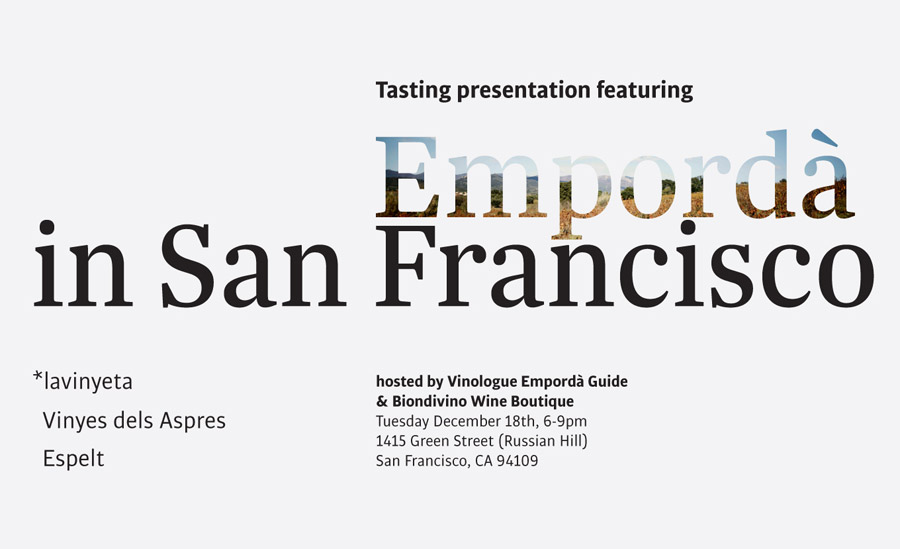 Next week we will be in San Francisco for the holidays and we're thrilled to announce that on Tuesday, December 18th from 6-9PM, we'll be hosting a tasting of several wines from Empordà region at Biondivino in San Francisco's Russian Hill neighborhood. Naturally, we'll also be presenting our Empordà enotourism guide for those interested in travel, wine and having a good time.
The event will be a unique chance for people in San Francisco to taste wines still quite unknown and relatively rare to find, as well as to meet us in person and purchase our award winning guide at a special discounted price.
And of course, in addition to the book excitement, we'll be showcasing three of our favorite wineries in the Empordà apellation: La Vinyeta, Espelt, and Vinyes dels Aspres. These are wineries by three younger winemakers that we've been following for years and who have taken great strides to redefine the wines in this region.
The price for just the tasting is $15 and $25 if you want a copy of the guide alongside the tasting to further your own wine adventures in this Northeast corner of Catalonia, Spain about an hour and a half north of Barcelona. Hope to see you there!
Biondivino
1415 Green Street
San Francisco, CA 94109
+1 415 673 2320