We're happy to announce the latest edition of our Dalmatia enotourism guide. Started in 2007, this new, third edition features 57 full profiles. It also has tasting notes for 180 wines in the region. In addition to these two key sections for any wine guide, there are also extended maps for all the subregions of this southern tip of Croatia, GPS coordinates, photos, and local gastronomic specialties. It's all in a comprehensive electronic format for travelers to take with them on a tablet, laptop, or phone and is available now on Amazon, iBooks, Google Play, and B&N.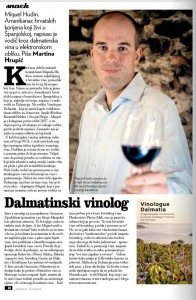 There have also been press announcements about this latest edition as well including one at Blue Danube Wine in California and a longer article at Dobra Hrana, a supplement to Jutarnji List, Croatia's largest daily paper. There they asked us to talk more about the wines in Croatia as well as the guide. If you feel like you have a good grasp of the Croatian language, click on the image at the left to read the full article.
Five years on we're very excited to see the evolution of this guide and the new frontiers of enotourism that it opens for visitors to Croatia.