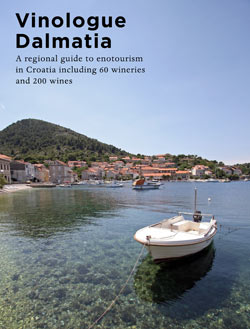 Just in time for August, we're happy to announce the release of the newest, updated edition of our first enotourism guide to Dalmatia, Croatia. Now in its fourth and most complete version to date, this guide features profiles and tasting notes for 60 wineries in this southern tip of Croatia along with 200 of their wines. Beloved old stalwarts like Dingač, Bibich, and Plenković are there alongside exciting newcomers such as Rizman and Markus.
Originally released in 2008, this book was the first comprehensive guide to the wines of any region in Croatia. Now more compact and making use of the latest version of our proprietary epub layout, the guide gives readers access to extremely versatile information that they can take with them on their tablet, phone, e-reader, or computer. Immediately download your copy today on Amazon, Apple, Barnes & Noble, Google, and Kobo.
Cheers and enjoy Dalmatian wines! We wish you the best enotouristic travels.