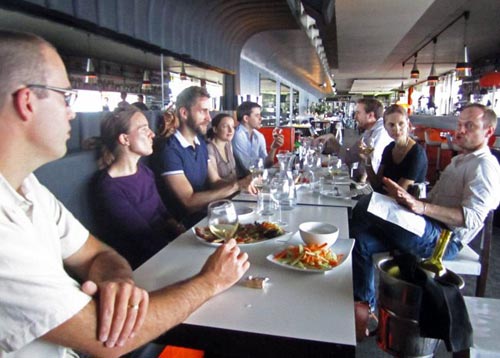 Last Thursday we were invited by an international company with an office in Barcelona to host a tasting of Empordà wines that we have covered in our Empordà guide. They spread across a broad range, but were all within a similar price point with one another as we wanted to present wines that were approachable and affordable but at the same time with character.
As the sun was setting over the Barceloneta beach, we were all seated at Sal Cafe, working our way through the following list:
Pago Diana – Rosé from Sant Jordi Desvalls. A unique Rosé comprised of 100% Tempranillo. 5€
Martí Fabra – Flor d'Albera from Sant Climent Sescebes. 100% Alexandria Muscat, which is a rare grape to be seen as a dry white given that as it's a grape used mainly for dessert wines. 8.5€
Mas Molla – Jaqué from Calonge. This "vi de pagès" wine is a single varietal grape that is phylloxera resistant. 1.90€ and you get 20 cents back if you return the bottle.
Vinyes dels Aspres – Oriol Negre 2010 from Cantallops. A blend of almost half Carignan and half Grenache, but with a little bit of Syrah and Merlot. 6€
La Vinyeta – Heus Negre 2011 from Mollet de Peralada. It's a blend of Carignan, Grenache, and Syrah. 6€
Castell de Biart – Samsó Garnatxa 2008 from between Masarac and Vilarnadal. Samsó is the Catalan name for Carignan. 4.50€
Part of the fun in hosting tasting like this is to see the reaction of those in attendance. We try to stay away from lecturing tasting notes at people and let them discover the wine as much as possible. Unsurprisingly, opinions varied a great deal.
The Rosé was quite liked by all and for good reason as the Tempranillo has lent it a good body without being super sweet. Opinions were mixed to the Flor d'Albera as some found it to be a bit over dry although it was intriguing. The Jaqué really split the group with some finding it far, far too bold (this style of wine can be a bit "wild" due to completely natural fermentation) and others were happy to kick it back with great abandon. For the Oriol and Heus, the response was much like asking if you were a Beatles or an Elvis fan. While we happen to be both, those who like the Oriol didn't care for the Heus and vice versa. Everyone pretty much agreed that the Samsó Garnatxa was the most solid of the reds though.
With our new guide coming from the printer in just a few days (and the electronic version already available) we're looking to do more of these tastings in the near future to introduce people to the region as well as our approach to enotouristic adventures in it.