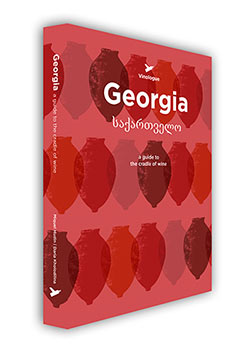 Wine writer Miquel Hudin is the 2016 recipient of the prestigious Geoffrey Roberts Award for a new book about Georgian wine. Founded in 1996 in the UK to commemorate the life and work of pioneer importer Geoffrey Roberts, this annual award is a travel bursary to further the cause of New World or emerging region wines. There is only one recipient per year who is judged to have been making a positive difference in the world of wine. The award is currently presented by The Vintner's Company that received its first Charter in 1363 and is one of the Twelve Great Livery Companies of the City of London in the UK.
Thanks to the Geoffrey Roberts award, Miquel Hudin has now commenced research for a new title in his Vinologue enotourism book series which will extensively cover the different wine regions, grapes, cellars and wines of the Republic of Georgia. He is currently traveling across the entire country to visit and profile the best wineries as well as to taste and review the wines. Miquel Hudin is a Certified Sommelier who has judged several international wine competitions and traveled extensively to different wine regions around the world. He is a regular contributor to Decanter, Harpers, the Guild of Sommeliers, and the World of Fine Wine.
This new Georgia wine guide is being designed for anyone who wishes to explore and enjoy this fascinating country in the Caucasus Mountains that has been continuously producing wine for at least 8,000 years and lays claim to over 500 native grape varieties. With a release set for early spring of 2017, this exciting new title can be pre-ordered now, directly from Vinologue.
The Vinologue series was founded in 2008 with the sole purpose of creating detailed and approachable guides to wine regions around the world. The Priorat guide is now in its second edition and was awarded, "Best European Wine Book" by the Gourmand Awards and was highly praised on the website of Jancis Robinson MW.
The Georgia wine book
Pre-Order Georgia – "A guide to the cradle of wine"