Priorat
Priorat is not Napa Valley nor the South of France but its constant push for greatness in the region is created by passion as well as the rugged, rocky, unyielding locale.
The wines are singular in taste and this led to what was originally DO Priorat being upgraded to DOQ Priorat in 2000. The Q (or DOCa in Castilian) is an indicator for "quality" and the only other region to have attained this is La Rioja. Of course the two regions couldn't be more dissimilar with La Rioja focusing on the Tempranillo grape with aging in American oak barrels and Priorat focusing on Grenache and Carignan blends aged in French oak barrels. Formerly known as a region for potent, full-bodied wines, much has changed over the years to where power is balanced with grace like if a ballerina and a weightlifter were to get in to a staring contest.
The Monks Arrive
A little more than 800 years ago a group of Carthusian monks decided to build a monastery at the heart of this region, their reason being that a shepherd told them of a vision he had of angels ascending a staircase to heaven. In this spot, the monks built what is now the village of Escaladei or literally, "steps to God". The villages that formed around Escaladei became part of the monks' feudal land holdings and the peasants essentially worked for the monks.
With monks came wine and they set in motion a viticultural tradition that continues to this day. Of course the monk-made wines weren't what made the region famous, that lie in the work of the founding of the Scala Dei winery (formed from the lands stripped from the monastery in the mid-19th century) who released their seminal 1974 vintage that many in the wine world took note of.
Modern Priorat
A group of hippy winemakers came to the territory in the late 1970s to follow a new vision, not from a shepherd but from René Barbier III who saw great potential for the region in the unique slate soil called, llicorella.
In 1989, this group released a wine made jointly, but under different labels–10 originally. In turn, eventually five wineries would emerge from this venture: Barbier's Clos Mogador, Clos de l'Obac, Àlvaro Palacios, Clos Erasmus, and Mas Martinet. Still in existence today, all five of these wineries are producing some of the top wines to be found in the region. Some of them command impressive prices with the l'Ermita by Palacios being either the most or second most expensive wine in all of Spain.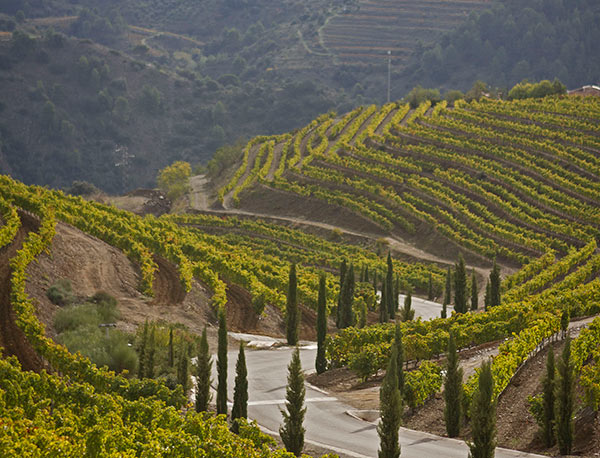 These initial winemakers ultimately set everything in motion for DOQ Priorat to become one of the most respected wine regions in the world. Others followed throughout the 1990s and many family cellars such as Mas Doix and Cal Pla all officially upgraded and registered their cellars with the Denomination of Origin. Other bigger names in the wine industry came as well such as Torres, Castell de Perelada, and Pinord.
La Crisis
In the early 2000s, Priorat was growing rapidly and from 2000 to 2011, the production more than doubled to reach 5.1 million kilograms of grapes; 94% of which were red grapes. Along the way to reaching this there were growing pains though which were shown in the Global Financial Crisis of 2008.
Given that Priorat exports about 85% of its production outside of Spain, this sudden shake up of the world's financial institutions created a great deal of insolvency for the region. Several cellars were sold and others changed drastically, but the one thing that nearly all of them did was to come full circle and look at what being a winery from Priorat meant.
A New Priorat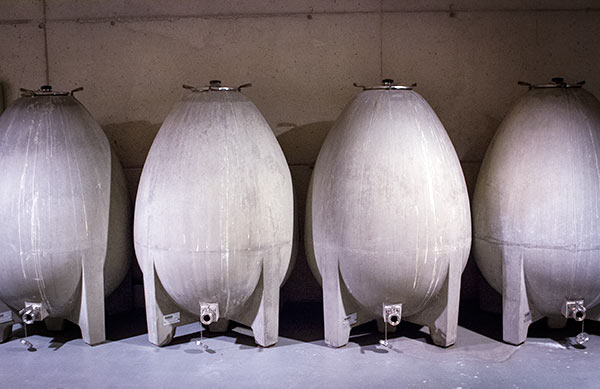 One of the first changes to happen were that the wineries created introductory level wines. While lower in price, these wines weren't lower in quality (they were privy to the same tasting certification as their more expensive older siblings) and made excellent use of the younger vines that had been planted in recent years.
For the older wines, a tremendous change was set in motion that continues to evolve to this day. Winemakers found that style of nearly 15 years ago wherein they would age in strong new oak barrels were hiding the qualities that made Priorat unique. They pulled back the layers of their intricate wines and arrived at the core to start producing wines with minimal interference from the aging regimen. For some this meant aging in much larger vessels such as foudre of 800L as Palacios does with L'Ermita. For others this meant swapping out the barrels altogether for wines aged in concrete or clay amphora such as what Sara Pérez is doing at Mas Martinet or Raul Bobet at Ferrer Bobet.
Others, like Scala Dei realized the benefit of showing single varietal wines from single vineyards. With the release of their "Garnatxes de Scala Dei" they've garnered a great deal of attention to show how unique the growing conditions are for this grape which is echoed by Finca Mas de la Rosa from Vall Llach which is nearly 100% old vine Carignan from a simply stupendous little property just to the north of the village of Porrera.
While this change is part of a much larger global trend towards showing the unique characteristics of a region after so many years of hiding them, it has caught a lot of attention and has worked to once again put Priorat back at the top of wine critic's articles as one of the world's top wine regions.
Established 1956
Size 2,000ha
Production 6,500,000kg
Cellars ~103
Main Red Grapes Grenache, Carignan, Cabernet Sauvignon, Merlot, Syrah
Main White Grapes White Grenache, Macabeu
Buy the Priorat book | Book a tour with the author | Learn about the wines | Back to Spain