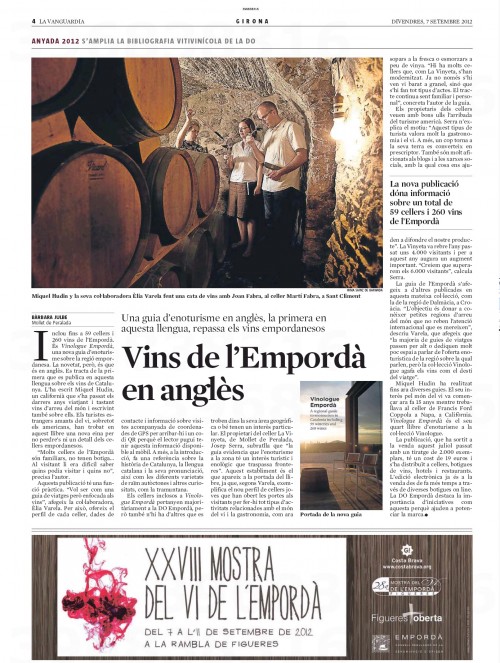 Today a full page article covering our Empordà enotourism guide ran in the Spanish newspaper, La Vanguardia. You can click on the photo above to view the article in its entirety, although if you don't speak Catalan, you might miss a bit of it.
For those who might like to see a little video, you can see the piece that aired on Catalan TV3 (at minute 26) about the guide and effect of English visitors to the region.
In addition to the main, DO Empordà regulatory body for the region, several other newspapers ran articles about the guide recently as well. You can read this in the following articles: DO Empordà, Catalan News Agency, and in French at la Clau.
We're always fans of blogs and we want to mention some of those as well who have lent an article supporting our latest and greatest guide: Vi-moment-persones, Raspa & Wine, Cupatges, and Can Batlle.
Lastly, several other news outlets ran coverage as well and should be mentioned: Directe, l'Empordà, Diari de Girona, Hora Nova, 324.cat, Nació Digital, Ara Girona, el Punt Avui, 9 Diari, and l'Economic.