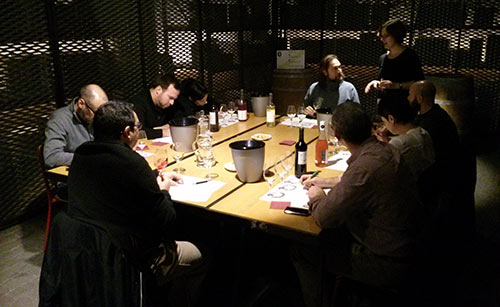 We recently completed our last tasting panels for the forthcoming DO Montsant guide. Much like our last panel, we worked with a group of local sommeliers in Barcelona to taste and evaluate the several hundred bottle samples we received from the wineries in the region.
The two evenings for this tasting were graciously hosted by Magatzem Escolà in their very gorgeous underground event space. If you haven't paid a visit to this impressive wine and spirits shop, we highly recommend when you're near Mercat del Born. With Iban (a sommelier) in charge of wine and João (a master barman) on spirits, they can advise you very, very well. And they currently have quite a few discounted wines.
The batch of sommeliers in attendance were as follows: Carlos Álvarez, Dani Garcia, Eric Vicente, Ramón Roset, Victoria Ibañez, and Xavier Bassa. Also joining us this last time were Patrick Webb and Mar Galván. Truly a great team.
Again, a mighty and many thanks to all!