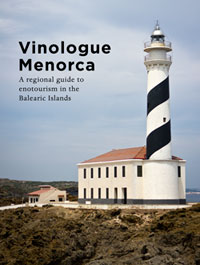 We're happy announce the release of Menorca, our latest enotourism guide and the first for the Balearic Islands (and hopefully not the last).
Poised off the eastern coast of Spain is Menorca with its fantastic beaches and rugged, beautiful nature. A popular summer tourist destination, it also has a wine and gastronomy tradition that's a must-see for visitors who think that Menorca is just sun and sand.
While there are just a handful of wineries that form the Vi de la Terra Menorca association, they are a wonderful complement to fresh, perfect seafood, robust cheeses, and spicy aromas of natural herbs that blanket this island. Our guide provides all of the information for contacting and visiting these island cellars as well as reviews of their current bottle vintages and, as is the case with all of our guides, other places to see and foods to taste along the way.
Available now on all the major digital platforms, it's an economically priced guide that will provide an invaluable companion for everyone who spends time on this enchanting Balearic Island.